The Ringgit is the legal currency of Malaysia and the circulation currency in some countries. Epay remittance now supports receiving payment in Ringgit, supporting transfers from 4 popular e-wallets in Malaysia and FPX to Epay, serving merchants who export to Malaysia and Filipino or Indonesian maid works in Malaysia who need to send Ringgit to the Philippines and Indonesia.
Now, It is free for the first 100  users who top up Ringgit to Epay account. 
Malaysia is not like North American countries where credit card usage is low. Therefore, understanding and accessing the local payment methods is essential to enter the marketplace in Malaysia.
The Malaysian Ringgit receiving payment provided by Epay is an aggregated payment method, which integrates Boost, Touch & Go, Grab, and ShopeePay, the most popular 4 electronic wallet payment, and FPX online transfer systems.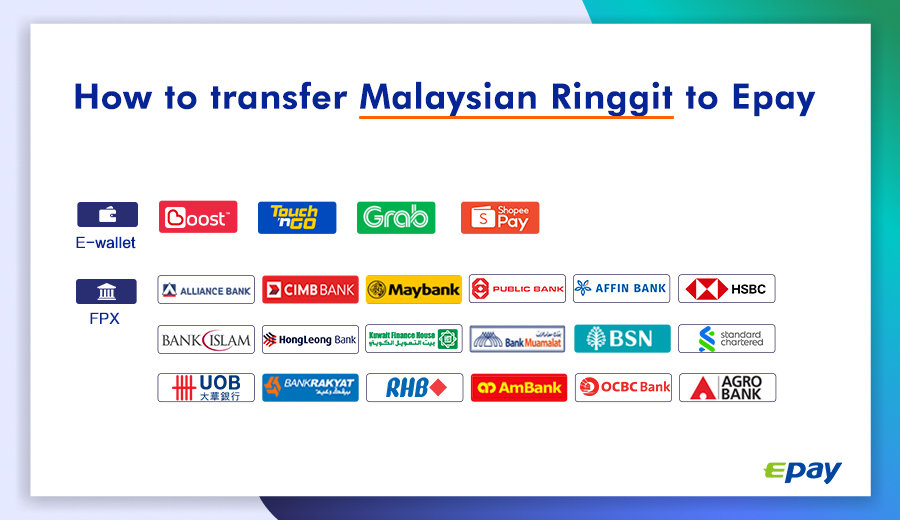 Let's take a brief look at these popular local payment methods in Malaysia~
FPX payment has become the largest online payment gateway in Malaysia and the preferred payment method for Malaysian consumers. It is an online banking transfer payment method that covers most mainstream banks in Malaysia. When shopping, customers do not need to register with FPX and can make inter-bank transfers, payments, etc. through their existing online banking accounts.
Boost is the most popular e-wallet in Malaysia. Users can recharge and prepay, make QR code payments, insurance payments, online shopping, and living expenses through Boost. It also supports VISA or Mastercard debit or credit cards.
GrabPay was originally the wallet of Grab, the largest taxi-hailing software in Southeast Asia. Now, in addition to taking taxis, GrabPay also supports take-out, online shopping, recharge, and offline payment. It has become a super APP that fully serves the daily life of Malaysians.
Touchpay is called the Malaysian Alipay because it has a wide range of uses, not only for consumption in physical stores but also for online shopping, payment of living bills and utility bills, etc. In addition, consumers only need to enter a phone number to transfer money.
ShopeePay is an e-wallet launched by Shopee, the leading e-commerce platform in Southeast Asia, with more than 35 banks and e-wallet partners. Customers can recharge from their bank accounts to ShopeePay, or at convenience stores or outlets.
These instant payment methods almost cover all Malaysian consumers, they can complete the payment process more easily and smoothly t, which greatly improves the order conversion rate.
① The payment process is as follows: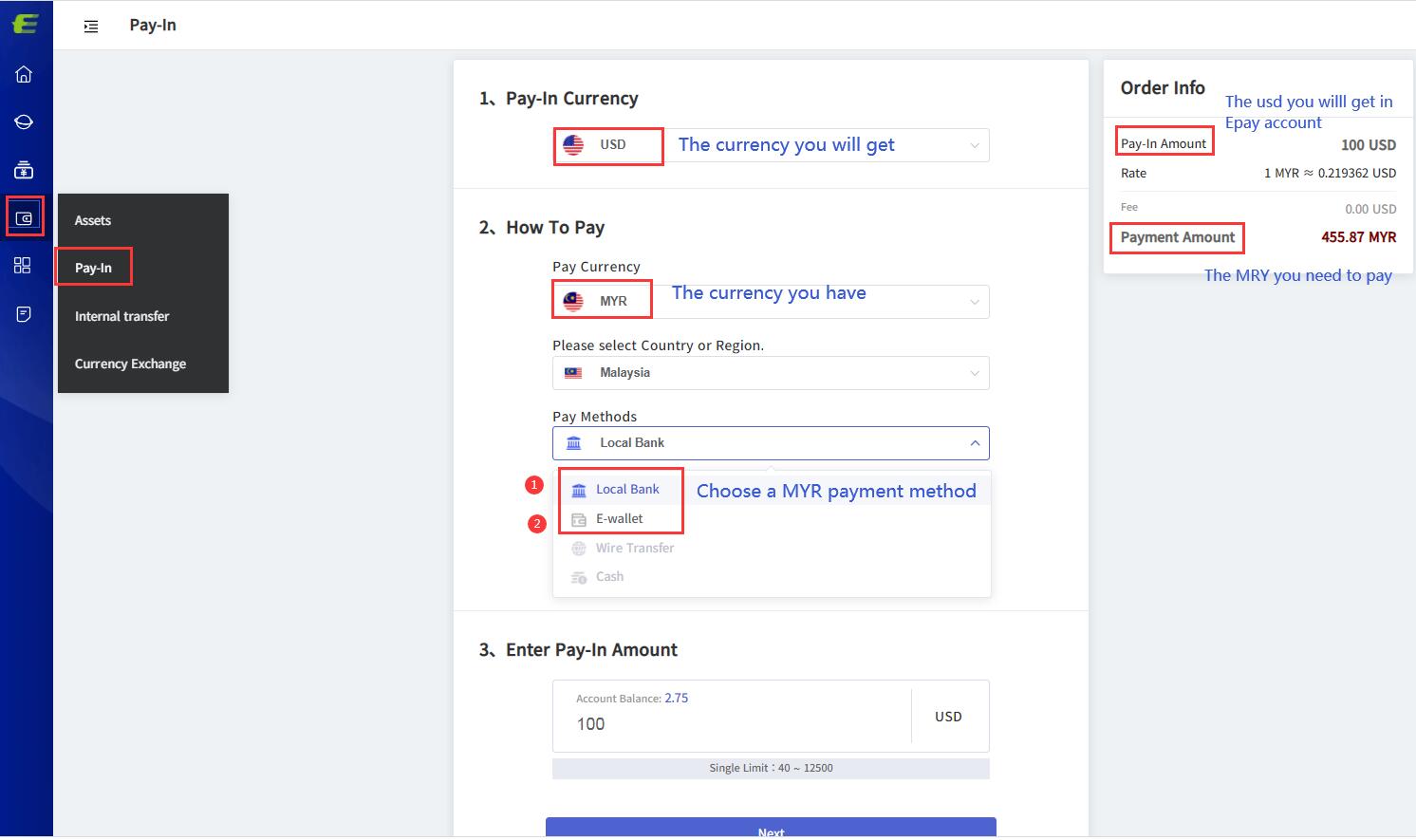 After paying MYR successfully, you will get the equivalent USD in your Epay account. Then you can make a withdrawal. Take CNY withdrawal as an example: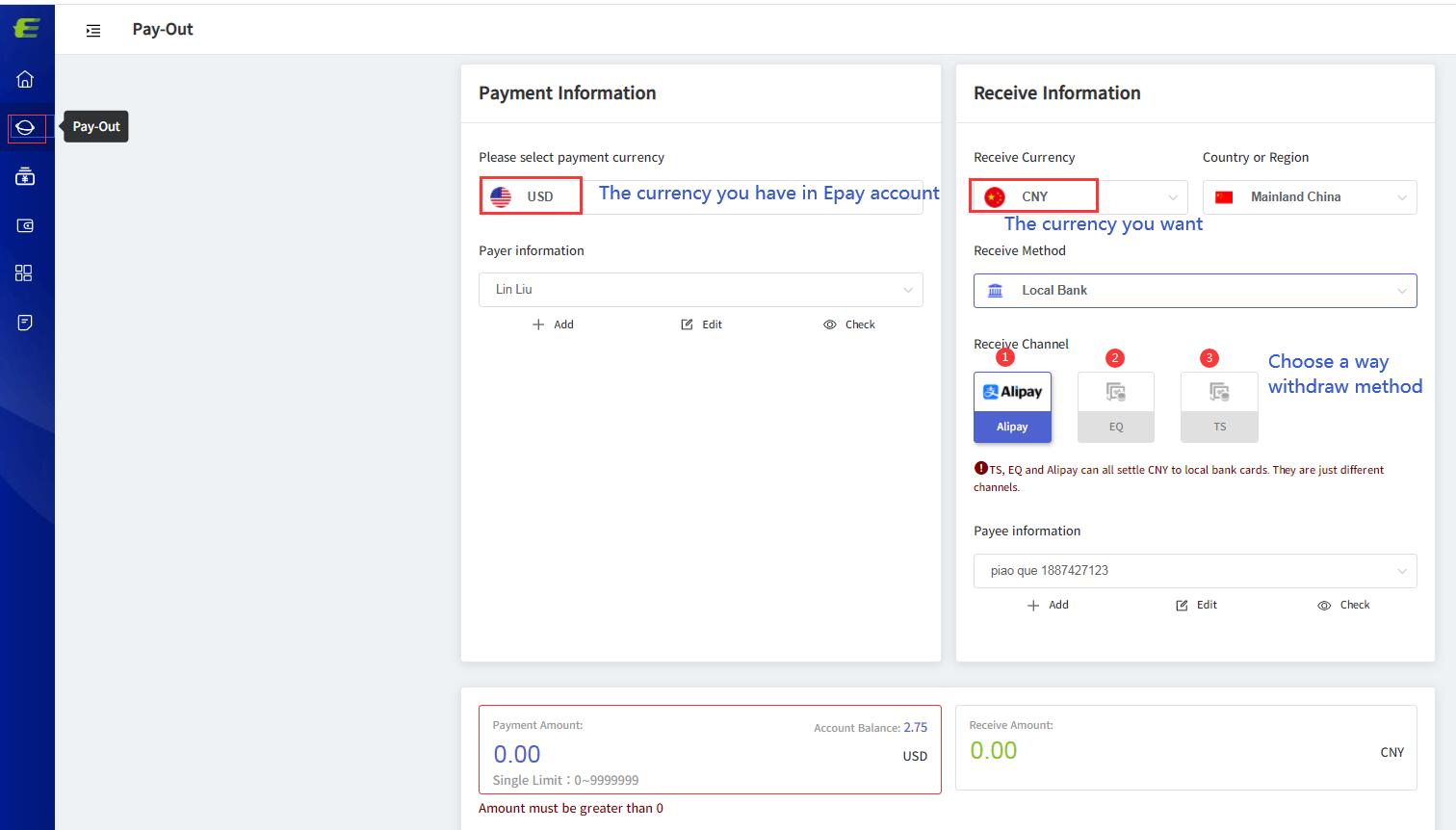 Contact us now to get the ringgit payment access process, and learn how to send Ringgit to Philippine pesos or Indonesian Rupiah. Now remit MYR to any country, you will have a chance to win Airpods Pro!